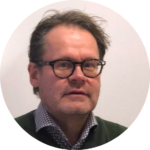 Mikael Hägg – Chairman of the Nomination Committee
Lund University, MSc in Economics. More positions within the Trelleborgs Group, including VP Finance Wheel Systems and Automotive. CFO Imtech Nordic and Capital Safety Group. Board member of several companies, including Eleda Group and Holmbergs Safety Systems. Mikael also represents Hawoc Investment AB.
Shares in Insplorion corresponding to 3.8 % and via Hawoc Investment AB corresponding to 1.5 %.

Elin Langhammer
Elin is a doctor of technology in materials science from Chalmers University of Technology with NPS technology as a research area. Elin is one of the founders of Insplorion and is today responsible for the product development of sensors and also works with technical support in Insplorion. Elin represents the founding group.
Shares in Insplorion corresponding to 1.1 % and another 1.1 % via closely related.

Håkan Krook
Håkan Krook has a master's degree in economics and works as Investment Director at Chalmers Ventures AB and is also a General Partner at Chalmers Innovation Seed Fund AB. Other board assignments: Aluwave AB, LumenRadio AB, Winningtemp AB (chairman), Halon Security AB, Gastrofy AB, Metry AB, YouPic AB, ParaKey AB, SigmaStocks AB.
Chalmers Ventures AB's holding of shares in Insplorion is equivalent to 2,9 %.
At the Annual General Meeting on April 19, 2022, the following was decided about the Nomination Committee for the next Annual General Meeting.
In accordance with the decision of the Annual General Meeting, the company's Nomination Committee for the 2023 Annual General Meeting shall consist of three members. The Chairman of the Board or the Board member appointed by the Chairman of the Board shall, as soon as possible after the end of the third quarter, contact the five largest shareholders at the time entered in the share register and, in consultation with them, appoint three members, who shall constitute the Nomination Committee. The composition of the Nomination Committee shall be announced on the company's website as soon as it is ready. The Nomination Committee's tasks are to prepare for the 2023 Annual General Meeting with proposals that are the responsibility of a Nomination Committee in accordance with the Swedish Code of Corporate Governance. The Nomination Committee's mandate is valid until a new Nomination Committee is appointed.